Scholastic R.E.A.L. 4 Month Mentor Package - Grade 7
4 Books and 4 Mentor Guides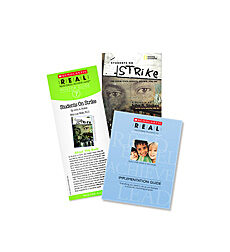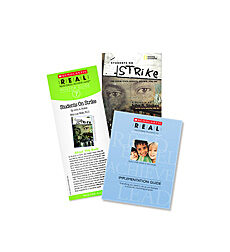 Scholastic R.E.A.L. 4 Month Mentor Package - Grade 7
4 Books and 4 Mentor Guides
Choose grade and collection
Description
Middle school
students will identify with the troubles faced by the characters they read about, and will enjoy the high-interest nonfiction titles.


Scholastic R.E.A.L.
is a read-aloud mentoring program designed to inspire students and build literacy skills.
Scholastic R.E.A.L. is a program devoted to giving school districts and community-based organizations the tools needed to recruit, encourage and equip mentors to foster literacy skills.


How it works:
Recruit:
District and school leaders recruit volunteers within the community to mentor students and to support their literacy development.


READ:
R.E.A.L. mentors read aloud in selected classrooms and community centers for an hour each month. Each mentor has one class of students in a grade from Kindergarten through Grade 7.


Inspire:
Mentors read and discuss up to seven books during their class visits. Students receive their own personal copies of up to seven books.


The outcomes are significant:

• Reading practice, motivation and improvement
• Improved self esteem
• Ongoing and consistent community engagement
• Relevant connections to the real world
Set Includes:
• Scholastic R.E.A.L. Mentor Pack - All Of The Above
• Scholastic R.E.A.L. Mentor Pack - Students On Strike
• Scholastic R.E.A.L. Mentor Pack - Taking Sides
• Scholastic R.E.A.L. Mentor Pack - The Lions of Little Rock
• Scholastic R.E.A.L.: Implementation Guide - Updated

This product is offered exclusively by Scholastic Inc.
Product Details
Item #:

NTS560511

ISBN13:

9780545605113

Format:

Mentoring Collection

Grades:

7

Funding Type:
Scholastic R.E.A.L. 4 Month Mentor Package - Grade 7
Mentoring Collection