Tip #1: The best time to start reading to your child is from the very start when he or she is a baby.
Research from The Kids & Family Reading Report showed that more parents need to start reading to their children from birth (under 3 months old), as only 30% of parents reported that they have done so. We suggest you begin with cloth books for babies; these books are easy to hold and are quite durable--they fit great in diaper bags! Then move onto board books for toddlers because they are strong and will help young hands turn pages. And then move on to picture books for preschoolers when they can sit for a bit longer and won't rip the pages too easily. Of course, these are just general guidelines, though! If your child will sit through a picture book at 7 months, by all means, go for it!
Resources for You:
Tip #2: Kids are NEVER too old for read alouds.
Even big kids still need read alouds. The Kids & Family Reading Report showed us that the frequency of parents reading aloud to their children begins to decline after age 5, again after age 8, and again after age 11. Yet 40% of kids (ages 6-11) whose parents stopped reading to them, say they WISHED their parents had continued. Bottom line is that we need to START reading early and KEEP reading to our kids as they grow!
Resources for You: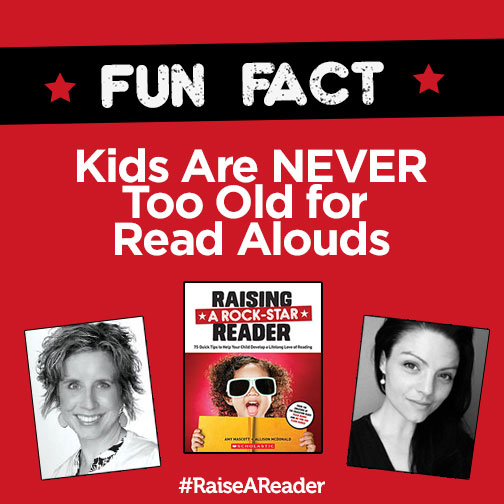 Tip #3: There's nothing wrong with reading the same book over and over and over again.
Parents always wonder if it's okay to read the same book every, single night with their kids, and you know what? It's FINE! It's wonderful! It's really okay! You want your kids to love reading, and if they really love a book, and they really love to hear it read, then you can read it 'til the cows come home. (Or at least until the cow jumps over the moon. . . )
Not only will rereading help kids to really understand and hear how fluent reading should sound, but it will also help kids commit favorite passages or sentences to memory. It will help them learn to recognize words, and it will help to shape their childhood. It's all good!
The Scholastic Parents Facebook community mentioned these books as among their children's favorites:
More Resources:
Tip #4: Identify read aloud challenges and fix them.
If finding the best book for your child is your main problem, help is on the way! Need some kid-approved book suggestions? We asked what kids want -- and listened! Check out what kids want most in books. Some other challenges came up and we've got solutions.
The Challenge: I don't have the time.
The Solution: Finding time to read is not easy, especially as your children get older. Learn how to make reading a priority for your family.
The Challenge: I've got a sore throat from reading so many books in a row!
The Solution: Grab a lozenge or some water. Or have other family members get involved in read alouds. Here are 6 different types of reading buddies for your kids. 
The Challenge: I get so sleepy.
The Solution: Change your reading time and location. Try reading to your children after dinner, during bathtime, or while they are eating breakfast. Any time is a good time to read! 
The Challenge: My child interrupts to ask questions.
The Solution: If your child is thinking about the text and trying to process it, that's a great thing!
Resources for You:
Tip #5: If your child is beginning to read on his/her own but still wants you to read aloud, keep reading!
Our job as parents is to do what we can to help our children develop a lifelong love of reading, and putting them on the spot and making them feel stressed or frustrated is not the way! We say read, read, read!! If you want to eventually have your child pick up some of the reading, start with easier books she knows and have her read and reread as to work on her fluency. That way, her confidence grows, and perhaps she'll be willing to take the reigns down the road.
Resources for You:
----
Check out bloggers Amy Mascott and Allie McDonald's book, Raising a Rock-Star Reader: 75 Quick Tips for Helping Your Child Develop a Lifelong Love for Reading. Get expert advice and learn new strategies for your young readers.