My kids love jokes — the sillier, the better (especially if there is a little potty humor involved!). "Miss 9" is now at an age where she pretty much gets the punchline of most kid-friendly jokes right away, while "Miss 5" likes to pretend that she does.
As a parent, it's fun to see your children developing a sense of humor, and taking time to laugh together is a great tool for building positive family connections. Plus, sharing jokes with others is social in nature, so when kids can be goofy or silly together, they're in a great position to develop positive relationships with their peers.
Jokes also help your kids practice reading comprehension and recall skills. Alternatively, you can take turns reading the jokes to each other, and then try making up some of your own!

Today I have collected together 12 very silly, not-so-spooky Halloween jokes that are sure to bring a smile to your children's faces. Download a copy of this Halloween Jokes for Kids printable. You can cut the cards out and then either staple them together into a mini joke book or add one-a-day to your child's lunch bag for lunchtime laughs with friends.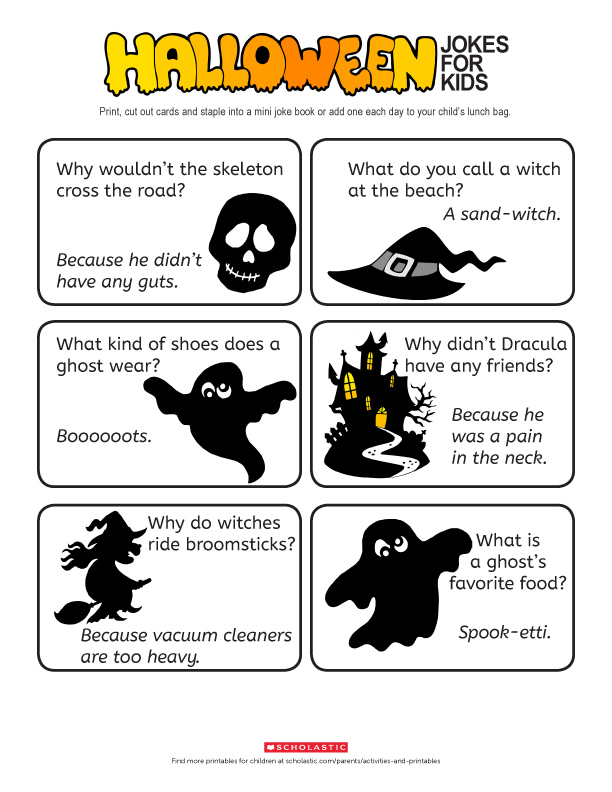 Have fun together with joke telling and enjoy a happy Halloween everyone!