Editor's note: This post was originally published October 26, 2015.

Print this Halloween Crossword puzzle out and use it to get into the Halloween spirit!
But don't just throw it at your kids and be done with it, my friends. Prep your children in super-simple ways that will help your child meet with success in filling in these words.
Here's how:
Generate some spooky Halloween excitement by talking about Halloween memories.
Brainstorm all of the things you can about Halloween. Write the words on a piece of paper in a big word splash (just words written all over the page), or write them on a whiteboard.
Remind your child how a crossword puzzle works. Talk about the Across clues and Down clues. Point to the first across clue (Across 3.) and read the clue: Do you hear this feathered friend hooting from above?
Count the number of squares in Across 3 (three squares), and remind your child that the word you are seeking is a three-letter word.
Write the word (if you know it!) in the squares and move on to the next clue.
Use pencil in case you have to erase, and have fun!
Click on the image below to download the printable, or click here.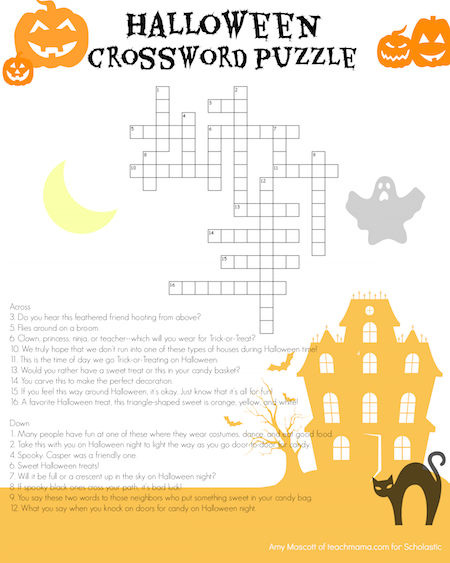 What are your favorite ways to sneak in some Halloween learning? We'd love to know!
Share your ideas on the Scholastic Parents Facebook page, or find Amy on twitter, @teachmama, and let's continue the conversation!