If you're like most people, you don't love or even enjoy poetry very much, and you don't read much poetry to your children.
Poetry isn't scary. Poetry matters! Poetry is everywhere, even your home! Did you know that poetry helps early learners to read, it's accessible for kids of all ages, and it's fun and inspiring?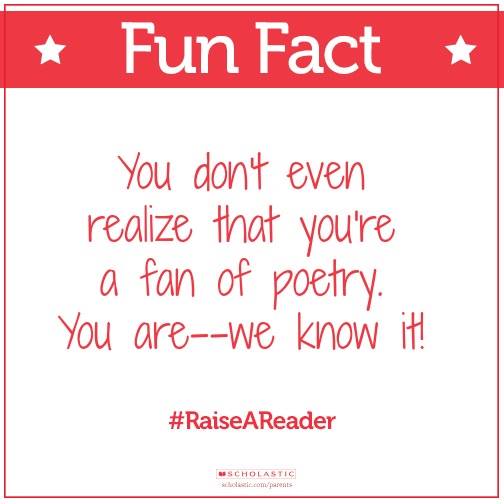 Here are 7 reasons why your kids NEED poetry.
1. Poetry helps build early literacy skills. It really does! Rhyme, rhythm, and sound are emphasized in poems. Want to try out a few rhyme games? 
2. Poetry helps kids develop their memory and brain power -- nursery rhymes and songs, especially! Here are some great nursery rhymes to check out and if you are looking to bring that poetry to life, these are great ideas.
3. Poetry encourages kids to play with language and words. When reading poetry, they hear how words can be moved and stretched to rhyme, and when they write poetry, they're doing the same!
4. Poetry helps emerging readers. Often, emerging readers are not as intimidated when reading poetry because many poems are short and sweet. The rhyme helps with figuring out words, as does the rhythm.
5. If nursery rhymes are way too "babyish," try using rap to teach poetry. Poetry, especially in songs and rap (check for parental advisory), is great for reluctant readers. When kids realize that songs and rap are forms of poetry, they're often all of a sudden interested in reading!
6. Poetry gives all kids an outlet for sharing their thoughts, ideas, and feelings -- especially tweens and teens.
7. Poetry is fun! Poetry is FUNNY! Poetry makes kids LAUGH. In the Scholastic Kids and Family Reading Report, we've found that the majority of kids ages 6–17 (70%) say they want books that "make me laugh." Kids also want books that "let me use my imagination" (54%). POETRY CAN DO THAT. Take a look at some of Shel Silverstein's poetry, which is bound to make kids laugh. Or, if your child is more of a writer, then you can start with some silly Limerick writing. Kids love these!!

Bring poetry to life
Parents can really bring poetry to life for kids in a number of ways. You can start simply by bringing poetry books into the house if you don't already have any! Especially in April -- National Poetry Month -- libraries will have a ton of poetry books at the ready for you!
Consider:
1. Choosing a poetry anthology and having kids take turn picking a poem to read. That's the great thing with poetry, you don't have to read from cover to cover!
2. Focusing on only one or two poems at a time. Read and re-read. Read in different voices, with emphasis on different words or phrases. Talk about how the meaning changes with each reading.
3. Listening to poems! Check out the The Library of Congress which has a HUGE database of poets reading their poems.
4. Taking poems on the go! The Poetry Foundation has an app you can download to take poems with you anywhere, any time.
5. Finding poems that kids will LOVE. Check out Kwame Alexander's book, The Crossover. It's a novel written in poetic verse. Every kid we know who reads this piece, about twin basketball stars who find out about life and love in one short season, could NOT put it down. Find out more in this fun book trailer.

Are you convinced yet? We hope so! Find poetry recommendations, activities, and more in our Parent Guide to Poetry. Continue the conversation on Facebook and take the Poetry Challenge. Share this once you've completed the challenge so that you can inspire others to embrace poems and poetry.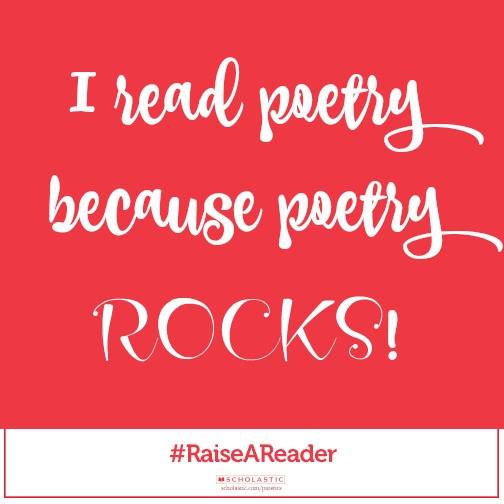 ----
Check out bloggers Amy Mascott and Allie McDonald's book, Raising a Rock-Star Reader: 75 Quick Tips for Helping Your Child Develop a Lifelong Love for Reading. Get expert advice and learn new strategies for your young readers.