July 4th is so much more than just backyard barbeques and parades. It's so much more than fireworks and pool parties. It's much more than red, white, and blue or stars and stripes. 
July 4th is the day we celebrate America's independence! It's definitely worthy of a superstar celebration, but how about we try sneaking in some fun learning as well?
Books are always a great place to begin. We've got a ton of July 4th books for your early reader, or you can check out this list of July 4th books for your older reader. Either way, we have you covered!
Once you've done your Independence Day reading, how about challenging your child to a July 4th Word Search? After a good look through a few of our recommended books, he's sure to know what each and every one of the words in our "Words to Find" mean!
Or better yet — bring a pile of Word Searches to your holiday BBQ and see how many adults can find each word! It'll definitely be a timely topic of conversation! 

Remember that you can make the most of your child's word search experience by taking just a few minutes to prepare him or her. Really! It's worth a try, friends.
Please don't just throw the Word Search at your kids and be on your merry way. Prep your children in super-simple ways that will help him or her find these words quickly and easily and that will ensure better connections!
Here's how:
1. Talk about July 4th. Read books about July 4th. The goal is to get these words into in your child's brain and fresh in her memory.
2. Take a minute to read each of the Words To Find in the box at the bottom of the crossword puzzle printable. Say each word out loud and then talk about the meaning of each word. Ask: When have you heard that word before? Can you use the word in a sentence? Can you try to use two or more of the words in a sentence? For a real challenge, ask: What part of speech is this word? How can you make it a different part of speech?
Here is the word list:
American                     Centennial                   Civic   
Fathers                        Festive                        Fireworks
Founding                     Freedom                      Holiday
Honor                         Independence Day        Liberty
National Anthem        Patriotic                          Picnic
Stars                          Stripes                            Star Spangled
United States             Veterans
3.  Remind your child how a word search works. Talk about the ways you can identify the words you find (circle it or highlight it) and that you keep track of the words on the bottom of the puzzle by crossing each word off as you find it.
4. Grab the writing utensils you need (pencil, pen, or highlighter).
5. Start searching and have fun! You can download our July 4th Word Search here by clicking on the image below: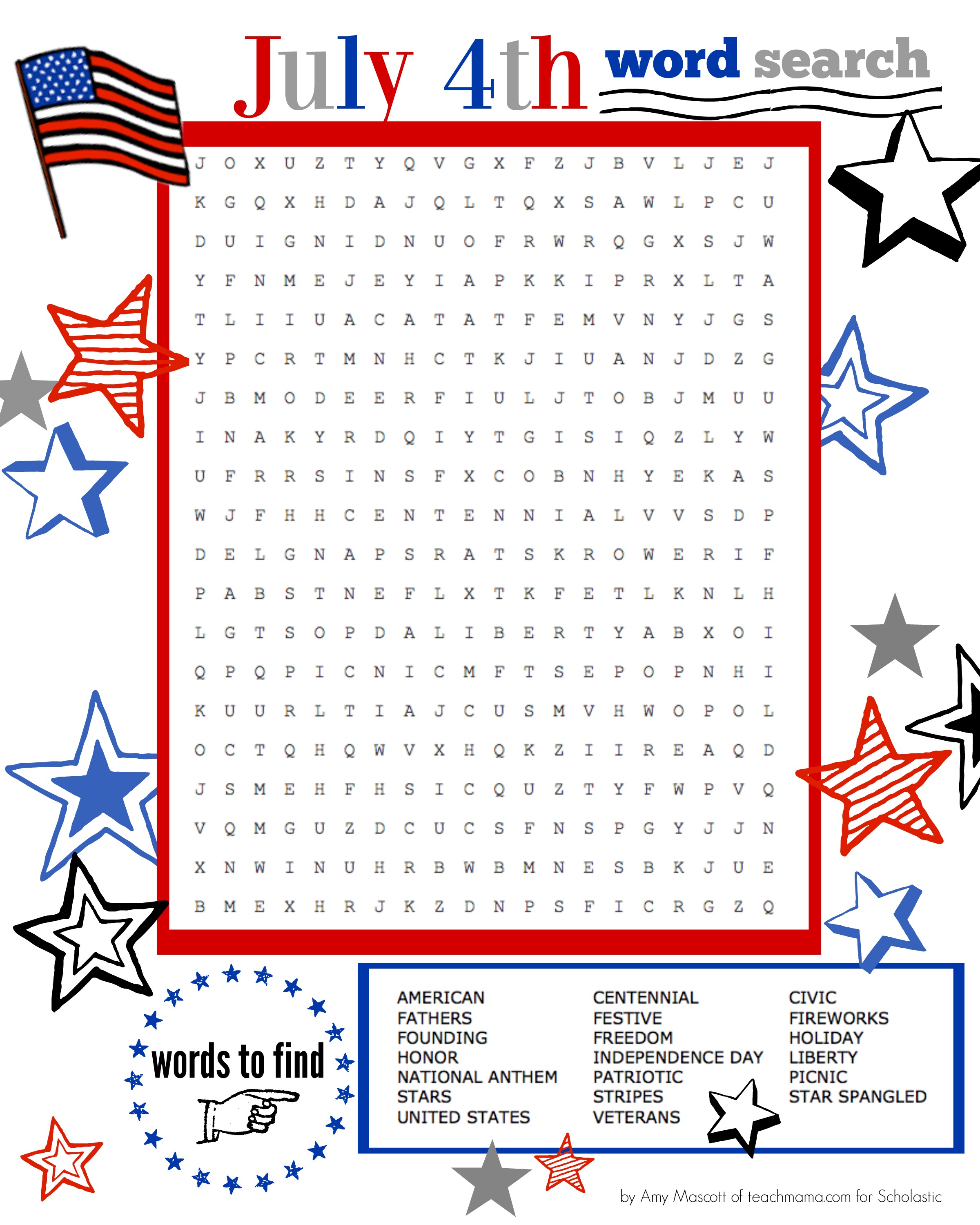 How else does your family sneak in some learning on Independence Day? We'd love to know! Share your ideas on the Scholastic Parents Facebook page, or find Amy on Twitter @teachmama and let's continue the conversation!
Featured Photo Credit: © M_a_y_a/iStockphoto

---
Check out bloggers Amy Mascott and Allie McDonald's book, Raising a Rock-Star Reader: 75 Quick Tips for Helping Your Child Develop a Lifelong Love for Reading. Get expert advice and learn new strategies for your young readers.