The great thing about Valentine's Day is that everyone has a different way of expressing their affection, which means more room for creativity and surprises, and countless ways for parents and kids to celebrate love. Adding your own personal touch to Valentine's Day makes it that much more meaningful, allowing for plenty of sweet moments to remember year after year. 
We asked our Scholastic Parents Facebook audience to share with us their own special Valentine's Day memories with their children. Read on to find out what made these parents' Valentine's Day unforgettable – from old family traditions to angelic moments – be inspired to make every February 14th a little more fun, creative, and memorable for you and your sweet one. 

"Last year, we hid hearts around the house on [each of our child's] favorite colored paper. On each heart we wrote something we love about them. Then they hung them on their bedroom doors." --Heather Goodwin 
"My favorite Valentine's Day memory is when my daughters, Amorrie age 6, and Zo-Lana age 3, made me breakfast and homemade cards, one of them with $2 and the other with $5, which was their age at the time last year. I loved it. They also came up with the most beautiful dance, along with a song for me!" --Dameshia Amorrie-Zo'lana Leonard
"My daughter was born in an ice storm on her due date, which was Valentine's Day. The ambulance had to have a plow in front of them to pave the way. A normal 10-minute drive to the hospital took us an hour, and our daughter was born less than an hour after getting there! My Valentine's Day has never been the same because I have a beautiful reason to celebrate on that day! We celebrate a birthday instead of just a day to buy chocolate and gifts!" --Tiffany Ellis
"Every Valentine's Day is special with my 3 children ages 4 to 14. This year was my 4-year-old boy's first time to participate in a Valentine card swap at [his] preschool program. We had a lot of extra cards left since not many children showed up, and he used his extras to go around and give a card to each adult there. An older man that was there with his grandson said 'Thank you, son' and told me it was the first Valentine card he's received in years!!! I love my son's ability to cheer people [up] and share his lovable personality -- hope he always remains that way. This week, we are using cards I ordered online to put together a large box to send to the kids at St. Jude's Hospital. It was my 5-year-old daughter's idea because she watched a St. Jude's program with me on TV and said it wasn't fair that the kids that were in the hospital would not be able to go to school and exchange cards. Love my kids!" --Sarah Hatcher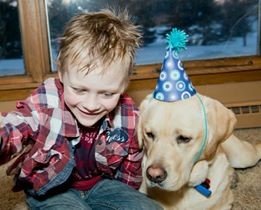 "Our son's amazing autism assistance dog was born on Valentine's Day! Every year, we celebrate with a special puppy birthday party! Makes Valentine's Day even more special!" --Nichole Laase 
"My special Valentine's Day memory with my kids is keeping a tradition my dad started when I was a kid. Every Valentine's Day, we would wake up with a box of chocolates set at the table with silverware. My sister and I loved it as kids and my kids now love it too. He passed when I was 12, so it's fun and important to keep it going." --Susan Marie Bryant
"Last year, my girl needed a confidence boost. For the entire month of February, I cut hearts out of construction paper and wrote something awesome about her on it. Then I taped it to her bedroom door before she woke each morning. She loved her daily surprises and I loved seeing her confidence grow. Now, it's a tradition we both look forward to." --Stacey Lou
"My son was about 6 at the time. It was almost Valentine's Day and he kept asking for 5 dollars. Being 6, I couldn't imagine what he needed 5 dollars for. This went on for 2 days -- him begging for the money. I didn't want to give it to him unless I knew what it was for. He ended up crying hysterically, saying 'I just need it!' So, I finally gave in and gave it to him. On Valentine's Day he came home from school with 6 carnations and a card that he drew himself. I didn't know that they were selling flowers at school! He hugged me and kissed me and said I love you. Then for the next 2 days said, 'I told you I needed it!' I just thought it was so special that he could have spent the money on snacks at lunchtime or in the school store, but he thought of me and got me the flowers!" --Heather OMara
"Every Valentine's Day, the kids make cupcakes and deliver them to our elderly neighbors. They are so sweet!" --Josie Byrne-Taveras
"When my elder daughter was in kindergarten, [it was the] first time [she] understood the meaning of Valentine's Day and surprised me by making a cute card and [picking] a flower from our garden. As it was my first [time celebrating] Valentine's Day with my child, it will always be memorable and special for me." --Nupur Biswal
"I did a Valentine's Day scavenger hunt and hid small gifts for [my child] around the house to find. She loved it and had a fun time." --Sara Stubbs
"Every year my children and I make cute Valentine's cards or a canvas picture to put on the wall. Most have their hand and foot prints as a memory of how big they are getting." --Kristen Hare
"My special Valentine's Day memory I have with my children is last year. We celebrated Valentine's Day by having a Valentine's Day Tea Party. We made finger sandwiches cut into heart shapes, I fixed heart-shaped cookies and chocolate-dipped strawberries and we had a pink frothy punch. We made our own Valentines for each other and then exchanged them. The kids loved it and want to do it again this year. --Angie Dawn Grogan

"Two years ago, I adopted my little one. On Valentine's Day, she said, 'I'm so happy you're my Valentine and forever Mom'." --Christine LaFrance 
"A few years back, my husband and I started a small garden in our backyard. Since then, every year for Valentine's Day, we add on to our garden. My son is included in helping me plant the seeds. Two years ago, he commented that he was so glad our love makes the plants grow." --Nikki Moeller
"Valentine's Day is my favorite with my daughter. Every year, the two of us get dressed up and head out for a 'fancy' dinner. Once we order, we take the time to share with each other what we love most about each other. Then we have dessert!" --Jennifer Cook 
"I love making all of the Valentine's Day cards with my kids for their classmates and I always know who they have a crush on in class because they make that card extra special." --Bridget Lavin Patterson
"My son and I have a carpet picnic! We make special pink milkshakes, and I fill his room with balloons and little tokens of love." --Alicia Solomon
"My favorite memory is last year; my daughters (5 and 7) asked if they could make cards and go to the nursing home so the people would not be lonely on 'love day.' I was in tears to see how they think of others at a young age and I pray it continues!" --Keyosha Jones-Shuford  
"A few years ago, my hubby made me and all of our kids these very sweet and personalized valentines with special pictures he had taken with each of us. The kids, years later, still carry these around or have them in school binders. This makes me very happy. I love the little crafts they make for us! We made muffin crayon cakes one year with old crayons and then made homemade heart valentines and handed them out to classmates. This was really fun!" --Tina Soliday
"I'd have to [say that] last year was most memorable. My son wanted to take me on a date since I was pregnant and had only 2 more days of him being an only child. He opened the doors for me and all; he had just turned 5 years old. This year will also be memorable since it's his baby brother's first Valentine's Day. [His] baby brother will turn 1." --Marcia Semones
"I always call my sweet daughter a 'love bug,' so one Valentine's Day, when she was about 5, she spent the whole day in the backyard. I thought she was playing, but she was trying her best to find a ladybug to give me for Valentine's Day (a 'love bug'). Too bad it was February...she was so disappointed that she couldn't find one, but she tried so hard, and I thought it was the sweetest thing ever." --Christie Biggers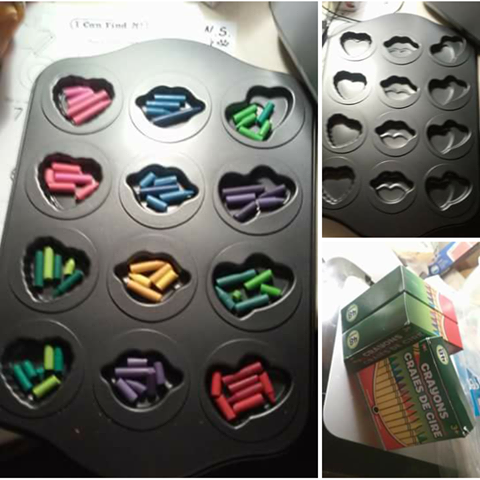 "When my daughter was in Pre-K (now in 1st grade), we bought a bunch of crayons, broke them up, mixed different colors together, and baked them into heart-shaped molds, which she loved. [It] was a hit with her class, having rainbow-colored heart crayons. Then after, we got up Valentine's Day morning and gave our kids their Valentine's chocolates. We surprised them and went to Dave and Buster's for a fun day of games and food. The kids were so surprised and everyone was happy!"--Mary Rapisardi 
"We are working on being kind. My kiddos and I are going for 100 acts of kindness. We hung up a chart and get to color one heart for every act of kindness." --Jennifer Mitchell
"When my daughter was 3, we took Valentine cards and passed them out to people at our local Walmart. One lady we handed [a card] to started to cry because she was missing her daughter that had been deployed overseas earlier that day. She asked if she could hug my daughter and of course the answer was yes. The lady said it meant so much to her." --Heather Jones Walden
"Baking special treats to enjoy together but also to give to others. We also do a family love tree each year, where we write on hearts about what we love about each other every day in February until Valentine's Day." --Jen Ziemann
"Last year, my daughter brought home an art craft that she wouldn't let me see. She ran upstairs to hide it out of sight...[and] I forgot about it. Until she brought it to me on Valentine's Day. It was a handmade purple rose that she made with clay in her art class. I love it and she's so happy that I keep it displayed on a shelf in the living room." --Jacqulyne Szymanski-Miller
"My son used to make me a Valentine every year when he was little. One year, he took me to dinner because he knew I didn't have plans. We went to his favorite place, TGIF's, and he paid with his money (a $5 bill he saved from his piggy bank). I paid the rest, of course. But he felt so grown up and I loved that he thought of me. He was 4 at the time." --Alejandra Carreno
"My daughter and I made homemade Valentines for the Meals on Wheels program in our town so that over 100 senior citizens would have a Valentine delivered with their lunch on Valentine's Day to show them people DO care." --Barsha Dickerson Whaley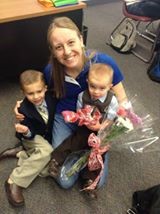 "My sister teaches high school and every Valentine's Day, my boy gets dressed up and take her flowers. Once my oldest was in school, his brother kept up the tradition." --Laura Sauvageau Tingey 
"A week before Valentine's Day, my kids and their Dad and I decorate paper mailboxes so that we can exchange valentines as a family. We all enjoy the little notes and small surprises we give each other throughout the week." --Shana Woodworth
"My favorite cherished memory with my son was when we were going through a hard time and he made me one paper flower, put it in a water bottle that he decorated to be the vase, and said he will always be my valentine forever. I have it on my dresser as a reminder I will always have the love of my son!" --Jessica Garcia
"Valentine's Day falls in the week of Congenital Heart Defects Week and in the month of Heart Month. And this February 2018 we will be celebrating a little differently. For us, it isn't about flowers, chocolate, and cards: it is about the value of love and importance. We welcomed a heart baby in 2017 and learned a lot about the importance of life, family and love. This year we will be celebrating love all month long with little 'love notes' each day for our three boys, reminding them of how important and appreciated they are. We will be also talking about health and how important it is to keep your heart healthy. [During] CHD week, we will celebrate the hard work and effort we have put into our heart warrior. We learn daily that life is short. To always show love and appreciation to each other. This Valentine's Day we will hug each other a little tighter and share stories of strength, kindness and appreciation." --Jacque Stineback

"My fondest memory from Valentine's Day with my kids is putting a small basket outside their doors with a card so they would find them when they woke up. It was always fun to watch their faces!" --Vikki Billings 
What are some of your most treasured Valentine's Day memories? Let us know on the Scholastic Parents Facebook Page!