Print this Read Across America Word Search and use it to get into the reading and literacy spirit! Celebrate Dr. Seuss by looking a little more deeply into his life and work.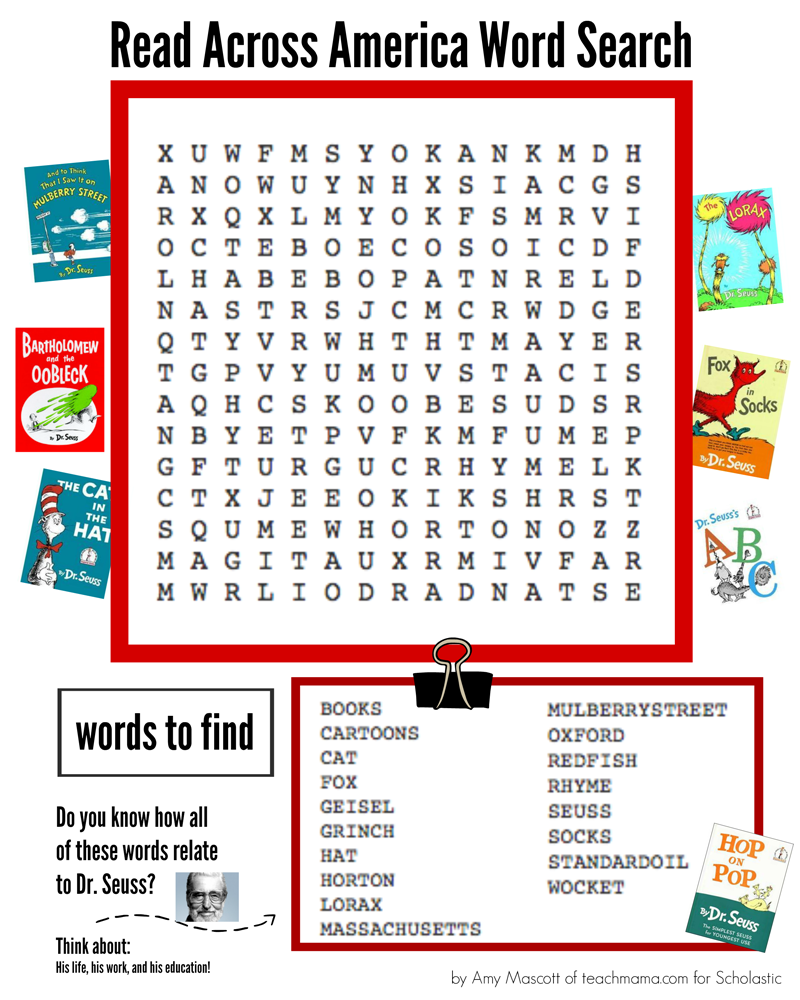 Remember, friends, you can make the most of your child's word searching experience by taking just a few minutes to prep and prepare him or her.
Like we've said before, don't just throw it at your kids and be done with it.  Prep your children in super-simple ways that will help him or her find these words quickly and easily and that will ensure better connections!
Here's how:
1. Talk about Read Across America Week! Mention that this is the one week during the year that we set aside to celebrate books and reading. We hold Read Across America Week as close to the birthday of Dr. Seuss (Dr. Theodor Geisel) as possible. Dr. Seuss's birthday is March 2nd.
2. Take a minute to read each of the Words to Find. You read the word first and then have your child repeat it. Use the word in a sentence or ask your child to tell you what he or she knows about the word.  Some of these words are difficult! They all have something to do with the life of Dr. Seuss. If you need a hand, here are some hints:
Books: Dr. Seuss wrote books.
Cartoons: Dr. Seuss's career began as a cartoonist for The Saturday Evening Post.
Cat: For The Cat in the Hat, of course!
Fox: Seuss wrote the book Fox in Socks in 1965.
Geisel: Dr. Seuss's real name is Theodor Seuss Geisel.
Grinch: For The Grinch Who Stole Christmas!
Hat: For The Cat in the Hat, and the infamous red and white striped top hat.
Horton: Seuss wrote Horton Hears a Who! In 1954.
Lorax: Seuss wrote The Lorax in 1971.
Massachusetts: Seuss was born in 1904 in Springfield, Massachusetts.
Mulberry Street: And to Think That I Saw It on Mulberry Street, was Seuss's first children's book, published in 1937.
Oxford: Seuss attended Oxford University in England after he graduated from Dartmouth College.
Red Fish: Seuss wrote One Fish, Two Fish, Red Fish, Blue Fish in 1960.
Rhyme: Many of Seuss's books contain rhyme.
Seuss
Socks: Seuss wrote the book Fox in Socks in 1965.
Standard Oil: Seuss created ads for a company called Standard Oil for the first 15 years of his career.
Wocket: Seuss wrote There's a Wocket in My Pocket! In 1974.
3. Remind your child how a word search works. Talk about the ways you can identify the words you find (circle it or highlight it) and that you keep track of the words on the bottom by crossing them off as you find them.
4. Grab the writing utensils your child will need (pencil, pen, or highlighter).
5. Start searching and have fun!
Want a few cool extension activities?

Consider:
Reading some of Dr. Seuss's books
Watching Seuss books made into movies, like The Lorax or The Cat in the Hat.
How is your family celebrating Read Across America Week? We'd love to know! Share your ideas on the Scholastic Parents Facebook page, or find Amy on twitter, @teachmama, and let's continue the conversation!
----
Check out bloggers Amy Mascott and Allie McDonald's book, Raising a Rock-Star Reader: 75 Quick Tips for Helping Your Child Develop a Lifelong Love for Reading. Get expert advice and learn new strategies for your young readers.