I have two boys and my older son is a voracious fantasy reader. I wasn't a big fantasy reader myself until his enthusiasm about what he was reading lured me into picking up one of his favorites.  We talk about the books we're reading when we're hanging out or at the dinner table at night and he was so passionate and convincing about the books he loved that his brother, my husband, and I have all picked up the books below and loved them all. It's been a lot of fun to see my son lead the family to explore new genres based on what he loves to read. Sometimes I ask him questions about what's about to happen or share my predictions in the hopes of getting a glimmer of what's to come in the next chapter but he's a stickler!  He responds with, "You'll see…you'll just have to keep reading --no spoilers, Mom!" I love it.
Try out these top fantasy book pics that my oldest (11 years old) recommends.  Not only did he love them – our entire family has been thoroughly entertained and I hope yours is, too.
Happy Fantasy Reading!

 1. Ranger's Apprentice series by John Flanagan. There are 11 books in the Ranger's series, and each one gets better and better. It's about a young boy, 11-year-old Will, who is orphaned and becomes the apprentice to a Ranger. What he doesn't realize is that the Rangers are the protectors of the Kingdom of Aruluen. Highly trained in the skills of battle and surveillance, they fight the battles before the battles reach the people. The Rangers are sort of like spies or the CIA. Will must help his mentor protect the land from all sorts of foes, including plenty of evil sorcerers. There is, of course, the biggest foe of them all, Morgarath, the Lord of the Mountains of Rain and Night, who presents the greatest challenge to Will and the Rangers as the series unfolds. It's a page turner right up through book 11. This series made the rounds with all of my son's friends, too!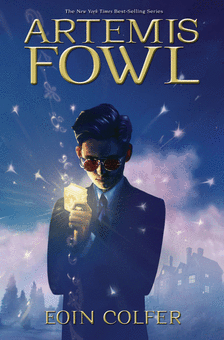 2. Artemis Fowl series by Eoin Colfer.  This series of eight books follows the adventures of lead character Artemis Fowl II, a 12-year-old millionaire, genius, and criminal mastermind, and his bodyguard, Butler, who aim to regain the Fowl fortune for Artemis by kidnapping a fairy. What happens then is the beginning of this rollicking series loaded with humor, twists, turns, time travel, magic, technology, fairies, pixies, warlocks, demons, and plenty of battles between the forces of good and evil. And as the series evolves, so does Artemis. He's a complex character whose story is worth the read.

3. Redwall by Brian Jacques. There are 22 books in the Redwall series, and each one is  packed with action, adventure, humor, bravery, heroism, and tales of an ongoing battle between good and evil. Set in medieval times, the main character, Matthias, is an orphaned mouse brought to live in Redwall Abbey, which houses a community of peaceful woodland creatures.  When villainous rat Cluny the Scourge and his army invade the Abbey and claim the land of Mossflower as their own, Matthias rises to become the Redwallers' defender. Filled with fierce battles and great acts of bravery, these imaginative stories are also about love, loyalty, friendship, and heartbreak. My son loved all of these stories (he has reread many of them), and they remain on the top of his "all-time favorites" list.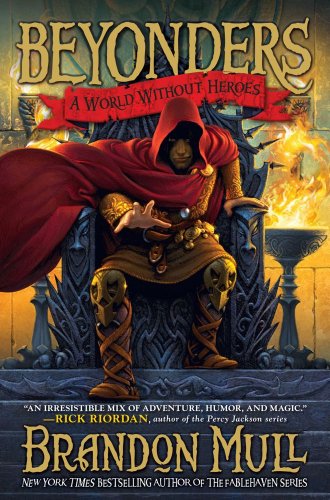 4. Beyonders by Brandon Mull. This is a fast-paced, high-stakes fantasy trilogy about a 13-year-old boy, Jason, who falls into the world of Lyrian and whose fate hangs on his ability to save Lyrian from the evil wizard emperor Maldor. With the help of one other "Beyonder" (a word for people from Earth), Rachel, he sets out on a quest to find and retrieve a secret word that has the power to destroy Maldor. There are cliff-hangers and action galore. My boys have read other Brandon Mull books – the Fablehaven series, The Candy Shop Wars, and Spirit Animals -- and enjoyed them all, but this series was definitely their favorite.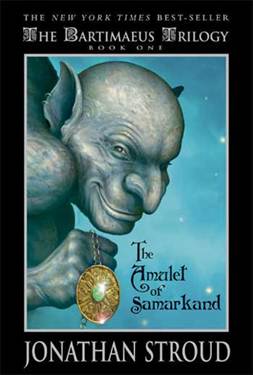 5. The Bartimaeus Trilogy by Jonathan Stroud. The first book in the series, The Amulet of Samarkand, is set in an alternate England ruled by magicians whose powers come from their ability to conjure demons. Nathaniel is a young magician's apprentice who is humiliated by the notoriously devious wizard, Simon Lovelace. In an attempt to impart revenge for the humiliation, Nathaniel summons the djinni, Bartimaeus, to help him steal the coveted Amulet of Samarkand– and there begins the dangerous beginning to this fantastic fantasy series. Bartimaeus is hilarious, cunning, and witty, and really becomes the central storyteller in the series, alongside Nathaniel. There is wizardry, magic, and a battle for power -- and deliciously addictive characters that you root for right until the very satisfying finish.
 

Share your fantasy fanaticism and recommendations for great kids' fantasy books on the Scholastic Parents Facebook page and continue the conversation!