Summer is (sob!) winding down for many of us which means that many students should be finished with their summer reading books. I repeat: should be finished with their summer reading books.
The end of summer also means that reading logs or comprehension questions must be finished, reading journals should be filled out, and books need to be returned to the library. It means that assigned books need to be read from cover to cover.
We have shared in the past what parents should do if their child refuses to do their summer reading, so if you've got a tough one on your hands, definitely check out that post. Instead we've got a few ways that you can, as a loved one, help make the sometimes-burdensome task of summer reading become a fun, relaxing family bonding experience.
First of all, if, at your home, reading has become a stressful chore, then know this: you are not alone. Many, many families view reading as a challenge, a huge, anxiety-filled stressor. Many kids don't want to complete their summer reading because they think it's difficult, they think it's boring, or maybe they just want to play.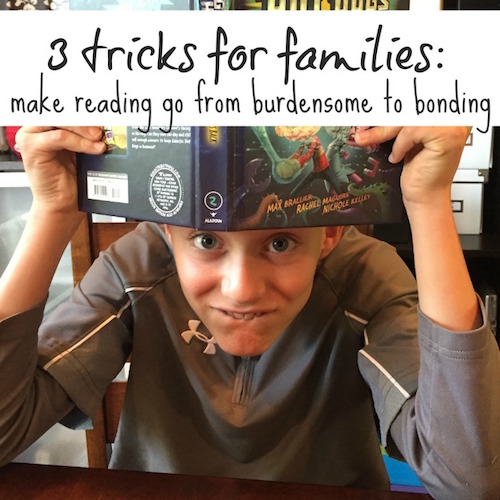 Here are three 'insider secrets' from a parent and reading specialist that will help make reading more of a comfortable bonding experience for your family as summer comes to an end:
Make a reading date. Find a new place to read books. You can make a game of finding a new place to read, or simply hit the local coffee shop or library. Sometimes changing the location of reading makes a really big difference in attitude!
 
Read with your child. Maybe you're reading out loud with your child, or maybe you're both just reading the same book at the same time. No matter what your child's age, either way works. Knowing a bit about the book will not only allow you to support your child's reading and understanding of the text, but it will provide great conversation starters for you was well.
 
Find some meaningful connections between your child and the book. Making connections with the text is one way that readers really begin to understand and appreciate what they're reading. Consider the following possible connections:
Is your child the same age or gender as a character?
Does your child share interests or talents with a character?
How does the setting of the story compare with your child's home, town, or school?
What kind of struggles do characters experience? How do they compare with your child's life?
If you give these three ideas a try, before you know it, summer reading will be finished, and your child will be asking for his next book!
What are your family's secrets to making summer reading go from burdensome to bonding?  Share your thoughts with us on the Scholastic Parents Facebook page, or find Amy on Twitter @teachmama and let's continue the conversation!
---
Check out bloggers Amy Mascott and Allie McDonald's book, Raising a Rock-Star Reader: 75 Quick Tips for Helping Your Child Develop a Lifelong Love for Reading. Get expert advice and learn new strategies for your young readers.