Editor's note: This post was originally published on December 15, 2014.
As my kids have gotten older, I've come to realize that one key to having them really want to talk to me — about anything — is picking the best time for them.
Not the best, most convenient time for me. 
Nope; the most convenient time for them.
And it's taken some trial and error, but here's something that most parents of tweens will want to know: Books can be a great way to get your kids to talk to you.
Really. Maybe you don't love the music or TV programs your tween likes, but some of the books for middle-grade readers are actually pretty great. 
So before anything, you want to make sure you've read the same book as your tween. And remember: Tweens are smart. They'll know if you read the book or if you skimmed it — so really read it. 
Then pick one of these times to jump in for the convo: 
1. In the car. Yes, they're trapped. And there's nowhere for your kids to go. But if you can hit your tween up with a comment about the book at just the right time, she will most likely want to talk to you. 
2. In the kitchen. While you're cooking or while your tween is eating, it's a safe, happy place in the kitchen. And it's a super time for a conversation with your often hungry growing child.
3. At bedtime. Your tween will most likely want to do anything except go to bed, so bedtime is the perfect time to push the cards a little and actually talk about books. My best conversations with my tween have occurred 15 minutes after said bedtime when she wanted to stay up and chat. Although my parent brain is basically done for the day at 9 p.m., my tween seems to be her most alert then, and I'm always amazed by what she says and how she thinks so late at night. 
During this excited time in their lives, talking about books with our tweens is a safe ground. It's not curfews or screen time or friends or homework. Books open the door to so many important topics to discuss with our kids, so let's start now. 
When is a good time to talk about books with your tween? Let us know!
Please share your thoughts on the Scholastic Parents Facebook page, or find Amy on Twitter, @teachmama, and let's continue the conversation!
Featured Image Credit:
--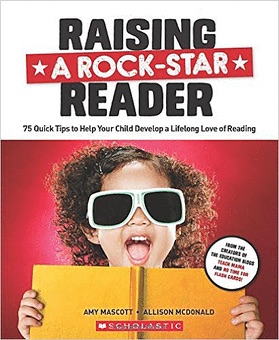 Check out bloggers Amy Mascott and Allie McDonald's book, Raising a Rock-Star Reader: 75 Quick Tips for Helping Your Child Develop a Lifelong Love for Reading. Get expert advice and learn new strategies for your young readers.