"How was school today?"
"Fine."
"Good."
"Boring."
These one-word responses are typical from my nine-year-old right now when I ask her about her school day. In the past, when she was in kindergarten and first grade, she'd come out of school overflowing with stories about her teachers and friends. But over the years she's become much less inclined to spontaneously volunteer information.
Fortunately, I have a plan. I'm replacing "How was school today?" with the occasional "Who did you play with today?" and the odd "What are you learning in math this week?" or "Which period did you enjoy most today?" These open-ended but specific questions have acted as effective conversation-starters, causing my daughter to open up and talk more.
Since I know I'm not alone in my efforts, I've made a printable set of School Day Conversation Cards that you can use as a family at the dinner table — or whenever it's convenient to encourage your children to share more about their day.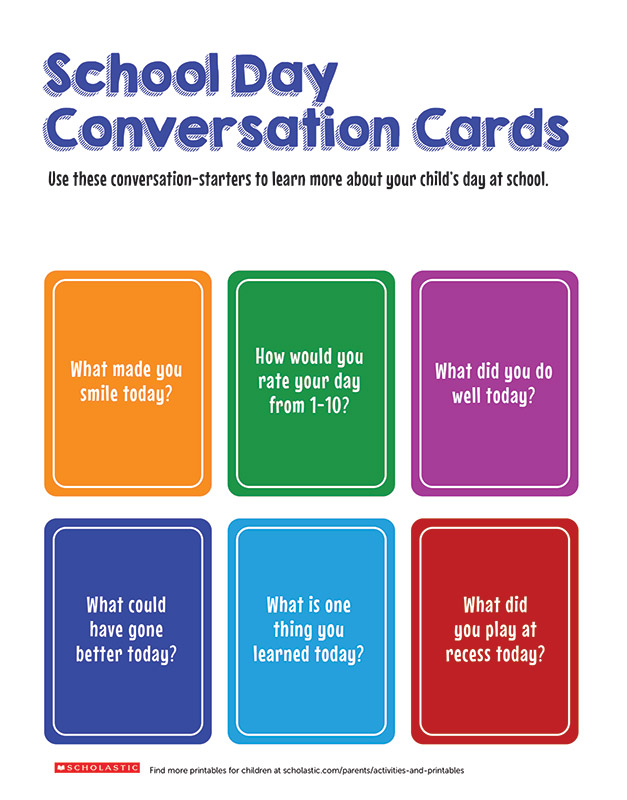 Each card includes one question about the school day. If you print them, cut them out, and place them in a jar on your dining table, it's super-easy to ask one question per evening. Simply choose a card, read the question, and invite your children to take turns sharing their own responses.
You might just find, as we have, that this naturally opens the door to further conversation and sharing, and that before too long those one-word responses will be a thing of the past.
Featured Photo: © Nikada/iStockphoto